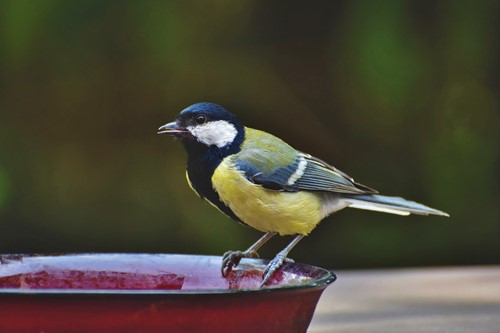 Bird baths are an excellent feature to invite wildlife into your outdoor spaces. You can find bird baths in a variety of shapes, sizes and materials, but they are also very easy to DIY. You can upcycle or repurpose many items you already have, as well as use inexpensive and easily obtainable materials. Here we'll go over some of the best ways to create your own bird bath for your garden.
How to Build a Bird Bath
A bird bath has two basic parts: the pedestal or base and the shallow dish at the top. One of the most enjoyable things about bird baths as a DIY project is that you can mix and match various items and techniques to create a unique aesthetic. For most options, the only supplies you'll need are the building materials themselves and some common household tools.
The Pedestal
Tomato Cages - Tomato cages make an excellent base for a bird bath and are simple to implement. All you'll need to do is use wire cutters to trim the cage down to the height you want. You can dress up the wire cage with outdoor spray paint or simply keep it as is. Secure the bottom of the cage and you're ready to add a saucer on top.

Plant Stands - An unused plant stand is perfect for a bird bath. Plant stands meant for single potted plants come in a variety of heights and styles but are usually the perfect size to support your choice of dish or saucer.

Upcycled Stool - If you have an old bar stool or other unused low-profile seating it can make a great stand for a bird bath. Just make sure you give it the proper weather treatment if you use a wooden stool, as the bird bath will need to withstand the elements.

Concrete Blocks - For a sturdy and practical base, create a simple tower of concrete blocks. This is an inexpensive and versatile way to build the base of your bath as it will allow you to control the height and handle strong winds without risk of falling.
The Bath Itself
Serving Dishes - A bird bath is an excellent way to repurpose old serving dishes. You can attach shallow ceramic dishes to the base of your choice using outdoor adhesive or create a custom pedestal to match.

Trash Can Lids - Galvanized steel trash can lids can make a rustic and inexpensive bird bath when flipped upside down. The depth is perfect for birds to drink and splash in and the material will withstand the elements with ease. Unless you have the tools to remove the handle from the lid, this idea works best with a tomato cage or other pedestal that's open in the center.

Terra Cotta Pot Saucers - Terra cotta pot saucers are the classic DIY bird bath and for good reason. They're inexpensive, easy to find and available in a wide variety of sizes. Adding a terra cotta saucer to just about anything can make a solid bird bath once you fill it with water. To dress it up and prevent the water from evaporating too quickly, paint or treat it with an outdoor weatherproof seal.
Bird baths are a wonderful DIY project as they provide a lot of room for creativity. Use these tips as a starting point but feel free to experiment and investigate other options. As long as you have a shallow container with water and can place it somewhere convenient for the birds, you'll have a successful bird bath.